Driver Convenience
Fuel more efficiently than ever: All your employees need to do is access the app from the comfort of their vehicles. No fussing with cards at the pump. No Driver IDs or PINs to remember, no receipts to keep track of, no guessing odometer readings. Set users up with DriverDash immediately—no need to wait for a physical card to arrive in the mail. And, drivers can tie their Shell Fuel Rewards Pro accounts to DriverDash, making rewards automatic.

Keep Your
Information Safe
All card information is encrypted and securely transmitted. Don't worry about card skimmers or stolen or lost cards. And, receipts are automatically stored in the app for your records—no paper receipts required.

More Accurate
Reporting
Standard card transactions mean drivers have to either guess odometer readings from the pump or go back to their vehicle to check. With DriverDash, they're initiating payment from inside their vehicles, with the odometer reading right in front of them.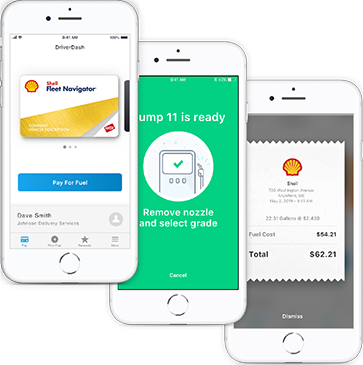 Keep Your
Team Safer
Minimize time at the pump: Drivers can initiate payment from the safety and comfort of their vehicles. After following a short series of prompts, DriverDash sends them a single-use code to enter at the pump that's connected to their Shell Fleet Solutions card.
Get Started
DriverDash is available to all Shell Fleet Solutions cardholders at no extra cost, and it's simple to get up and running.
Log in here. You'll be prompted to enter mobile numbers for all employees you want to start using DriverDash, and they'll receive a text message with a link to download the app.
DriverDash FAQ
Understanding DriverDash
How does it work?
When a user reaches a fueling location, they open the DriverDash app. They can remain in their vehicle while they're prompted to input a pump number and odometer reading. To enter their Driver ID, they'll just need to use their smartphone's facial or fingerprint recognition feature.
Then, they'll fuel up at the pump—and that's all there is to it! Receipts are stored electronically in the app, so there's no need to worry about hanging on to a piece of paper.
DriverDash uses geolocation to help users locate nearby fueling stations, and it can offer directions through the device's maps app.
Do we have to pay to use DriverDash?
No. DriverDash is free to set up and free to use.
If we sign up for DriverDash, do we have to use it for every fuel purchase?
No. Although using DriverDash has many benefits, employees can always swipe their fuel card at the pump.
Will using DriverDash change any of our fleet card features, controls or reports?
No. All of your fleet card features are supported by DriverDash. Your reporting, billing and purchase controls will remain the same.
Security and Safety
Is the fleet card number stored on the phone?
No. DriverDash uses an encrypted representation of the card number, stored securely on the phone.
Do employees have to register or log in to the app?
No. Only employees who download DriverDash (by receiving an invitation from their fleet manager) are able to use the app.
Can my employees use fingerprint or facial recognition to authorize a transaction?
Yes. If an employee's smartphone has fingerprint authentication or facial recognition, they can choose to use this feature (instead of entering their Driver ID), as an added layer of security.
Can other cards be added to DriverDash?
No. Although DriverDash is available in the Apple App Store and Google Play, employees must download the app through an invitation text sent by their fleet manager to ensure that they are automatically linked to the appropriate fleet card account. Fleet managers can begin inviting drivers by clicking here.
Is it safe to use a smartphone at a gas pump?
Please always follow local laws and regulations pertaining to cellphone use while driving and fueling. And please remember to use your phone responsibly. Never use your phone when driving and make sure your car is parked safely and shut off before using your phone. Refrain from using your phone when walking across the station.
What if an employee loses their phone?
Your fleet card account is protected by your employee's Driver ID, facial ID or fingerprint scan.
Downloading DriverDash
Although DriverDash is available at the Apple App Store and Google Play, employees must download it via the invitation sent from DriverDash to ensure that they are automatically linked to your fleet card account.
Using DriverDash
Where can we use DriverDash?
DriverDash is accepted at nearly 13,000 Shell stations throughout the continental U.S., with new acceptance locations added frequently.
How do we find accepting locations?
Open the app and click the "Find Fuel" button, the middle one along the bottom. Click on any location to get hours, directions and a list of station amenities.
How do we use DriverDash to pay at the pump?
Follow these steps:
Before fueling, launch the app.
Tap "Pay for Fuel" and select your pump number.
When your account prompt appears, you can activate the pump by entering your Driver ID or scanning your fingerprint.
How do I connect my rewards account?
From the DriverDash landing page, touch the rewards icon at the bottom of the screen and follow the instructions. You will be asked to enter your Fuel Rewards Pro ID. Enter your Pro ID when you fill up for work to earn a 5¢ per gallon reward on fill-ups of at least 10 gallons.