Shell Fleet Solutions offers:
Control
Set limits on what's purchased, how much is purchased and when it's purchased.
With ClearView™ Snap and ClearView Essentials, pull up detailed fueling activity reports.
Activate, suspend and terminate cards using our online or mobile tools.
Convenience
Fuel up at nearly 13,000 Shell stations or choose a fleet card that's accepted at 95% of all U.S. fueling stations.
Get help whenever you need it by calling our 24/7/365 customer service team.
Use WEX Fleet SmartHub® to access your account anywhere, anytime with online and mobile tools.
Savings
Earn big with rebates of up to 6¢ per gallon.
Pay less with discounts at participating Jiffy Lube locations.*
Get money-saving insights on maintenance, mileage and training.
Security
Cancel lost or stolen cards in real time.
Cut down on your risk of fraud and misuse with Driver IDs and purchase controls.
Know who purchased what, where and when with DriverDash.
Even heroes need a hand.
Learn how Shell Fleet Solutions gives you greater control, boosts convenience, helps you save and improves security.
The tech that fuels your fleet card.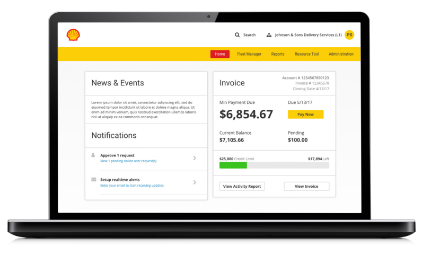 Want to manage your account online? No problem.
Tap into spending insights, purchase controls and more with the online account management portal, Shell Account Manager.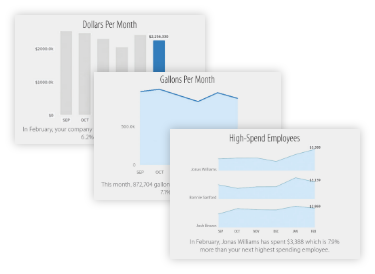 Turn knowledge into power.
Better insights have arrived thanks to ClearView analytics,¹ which give you the option to pull up full data analytics or get simple email reports.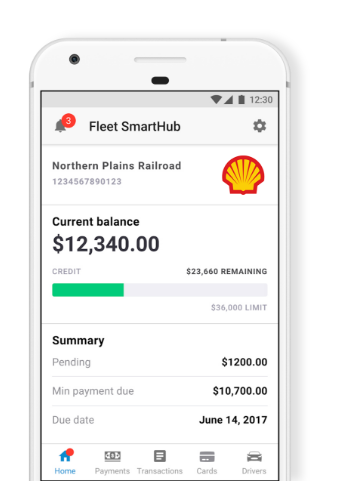 Handle business, even when you're on the move.
Get quick, on-the-go access to your fuel card account with Fleet SmartHub, a free mobile app.¹
Make a payment
Cancel lost or stolen cards
Check credit limits
Look up Driver IDs
Monitor potential misuses
1Shell Fleet Navigator and Shell Fleet Plus cards only.
Ready to get started?
Find out which fleet card is right for you, then set off down the road to greater efficiency.
or call 1-888-260-0886